A Letter from Our President and CEO
We make the world cleaner as the premier provider of laundry solutions.
One of the most inspiring things in this world is when a group of driven individuals pool their collective skills, talents, time, and passion into a common goal. It's as rare as it is beautiful. But each day, Alliance Laundry Systems team members do exactly that. To our team, leading performance in laundry isn't a onedimensional tagline; it's a part of our collective DNA and drives everything we do, from research and development to testing to building the world's greatest laundry equipment.
A year ago, we were proud to release the first-ever Alliance Laundry Systems Environmental, Social, and Governance (ESG) report — a testament of that united focus in all aspects of the business. It's inspiring to share the ways our equipment makes the world a cleaner place. From helping prevent the spread of infection, and keeping firefighters and other frontline staff safe, to creating a sense of community in underserved areas through providing vital laundromat services, our products truly make a difference.
In this, our second, ESG report, I'm honored to share updates on our company's efforts in the markets we serve as well as Alliance's on-going activities in the areas of corporate citizenship and making our communities better.
Alliance Laundry Systems is resolute in its commitment to leadership — leadership in all facets of our business. We pride ourselves on not merely a duty-bound approach, but one built upon fostering a culture of unbridled enthusiasm to lead through innovation. Alliance Laundry Systems makes the world a cleaner place every day, and every year, we'll raise the bar with renewed vigor…leadership by example.
Sincerely,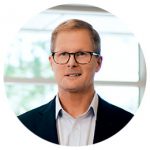 Michael D. Schoeb
President and Chief Executive Officer